The Alchemic Order
The Alchemic Order is a collective of London artists; some of the finest talents in theatre, music, architecture, design and contemporary dance in the world.
Oscar Wilde's The Picture of Dorian Gray: A Restoration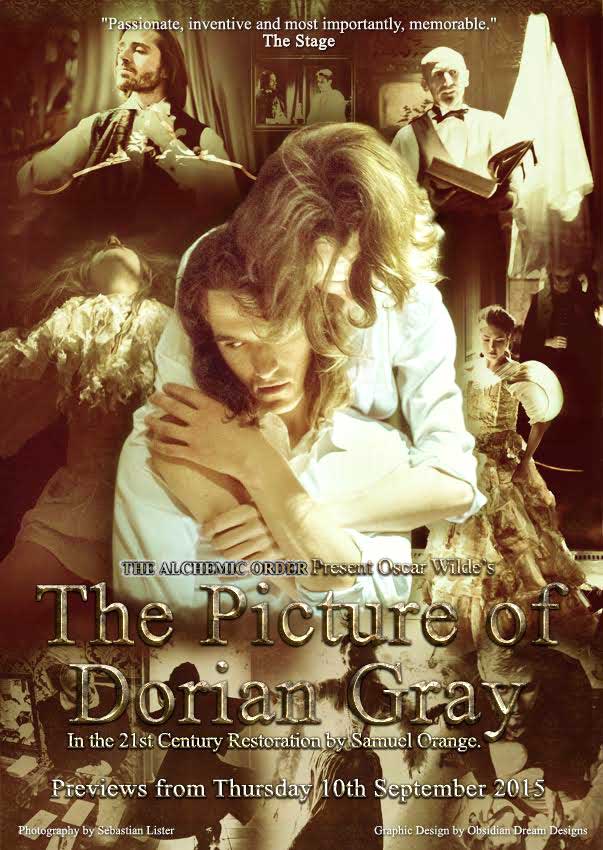 Name of Show
The Picture of Dorian Gray: A Restoration
Author
Adapted by Samuel Orange, from the novel by Oscar Wilde
Director
Samuel Orange
Synopsis
The Alchemic Order consider The Picture of Dorian Gray one of the most important works of western literature. In our adaptation, a reappraisal of the metaphysical premise of the novel paves the way for a new theatrical experience. 125 years after publication, Oscar Wilde's infamous novel has been radically transformed into this critically acclaimed production which will transport you to the luxurious, languid and licentious world of Wilde and his characters. As guests at Mr. Gray's town house in The Royal Borough of Greenwich, you are invited on a journey through time, space and imagination, from aristocratic Victoriana to the decadent underworld of a Gothic nightmare and beyond.
Venue & Address
The House of Orange (in The Royal Borough of Greenwich); address is given out at booking, as it is a 'secret' address.
Box Office
Telephone: 0800 411 8881, website: tpodg.brownpapertickets.com
Social media
Facebook: www.facebook.com/Thealchemicorder, Twitter: @AlchemicOrder
Opening and closing dates
Previews from 10th September 2015. Opens 1st October to 23rd December 2015. And it is an intention to run the work permanently throughout 2016 and indefinitely therein after.
Times
7:30 to 10:15 pm
Prices
£25 Previews, £37.50 Mondays - Wednesdays, £47.50 Thursdays - Saturdays, £10 off any full-price ticket, if booked before 10th September 2015.
Reviews & Comments
The show has garnered a lot of attention, together with extraordinary audience, academic and critical acclaim.
The Stage
"Passionate, inventive and most importantly, memorable."
Islington Gazette ★★★★★
"Orange conjures an evening of startling invention. It is a labour of love that translates and showcases an impeccably high standard of acting. More than a theatre experience. More than a good night out."
Remote Goat ★★★★★
"Nothing short of brilliant. Every cast member was utterly captivating. This is the best piece of theatre that I've seen in years."
One Stop Arts★★★★
"A refreshingly unusual and well-executed production, fuelled by an intense engagement with the classic source material. This ambitious adaptation is executed with loving attention to detail and no small amount of flair."
The Groundling ★★★★
"You'd be forgiven for wishing all theatre was done this way."
The Gay UK ★★★★
"Great acting, inventive staging and clever writing. This is the future of creative and imaginative theatre."
A Younger Theatre
"Wildly inventive. An ambitious, creative and memorable experience and we are certainly made to feel welcome guests in the house."
Everything Theatre
"Fondly pieced together by a lover of both alternative theatre and the book. They loyally stick close to the clever words of Wilde and the staging of this play is a clever idea, the specifics of which are yet to be done anywhere else."
[Smiths] Magazine
"An experience like no other. It is honestly enchanting. You can't imagine the surprises that The Alchemic Order have in store for you. It feels like you have witnessed something special."
The Ransom Note
"The production was a treat; tightly scripted, adeptly delivered, and blessed with a lightning dynamic that made the evening fly by."
About The Alchemic Order
The Alchemic Order is a unique collective of creative minds.

Within a synergy of media, they propose new rituals of aesthetic transfiguration. Artistic Director, Samuel Orange collaborates with those seeking new dimensions in art, thought and life. Website www.thealchemicorder.com was vanished from the Internet 14 April 2016.