Lenin in London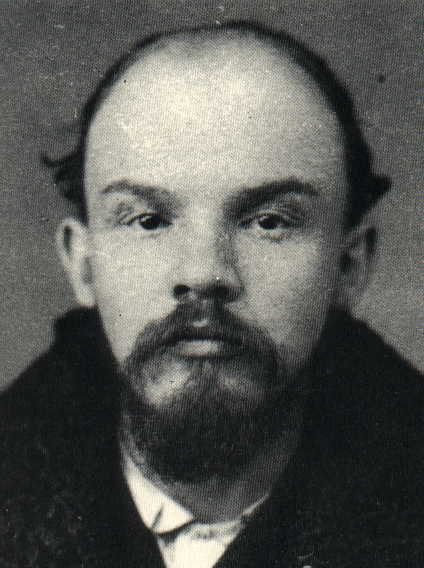 Wikipedia knows and narrates - Vladimir Ilyich Lenin was a Russian socialist revolutionary and political theorist. He served as the leader of the Russian Soviet Federative Socialist Republic from 1917 until his death 1924. Common story - born to a boring wealthy family in Simbirsk, youngster gained an interest in revolutionary leftist politics...
Lenin's birthday is 22 April 1870.
Vladimir Lenin came to London six times between 1902 and 1911, spending a lot of time at the British Library, where for the first time the underground revolutionary got access to works of Karl Marx.
London became for Lenin a symbol of the evil he wanted to destroy. It's quite ironic that a capitalist state like Britain gave Lenin access to books, freedom of action, financial aid. And precisely here, in London, Lenin wrote his books about destroying world capitalism.
Lenin quotes:
"When there is state there can be no freedom, but when there is freedom there will be no state."
"It is true that liberty is precious; so precious that it must be carefully rationed."
"One man with a gun can control 100 without one."
"Give me four years to teach the children and the seed I have sown will never be uprooted."
36 Tavistock Place, London, UK.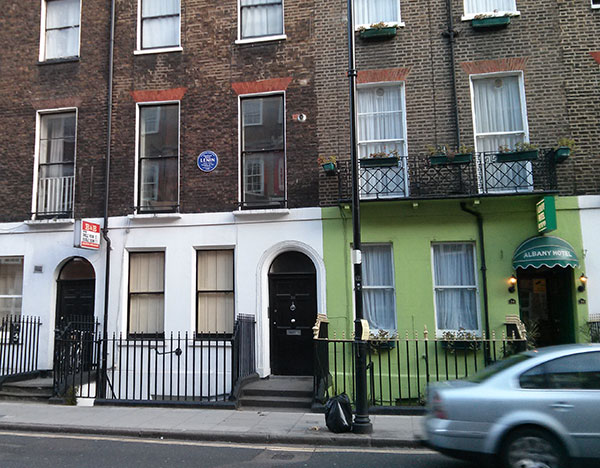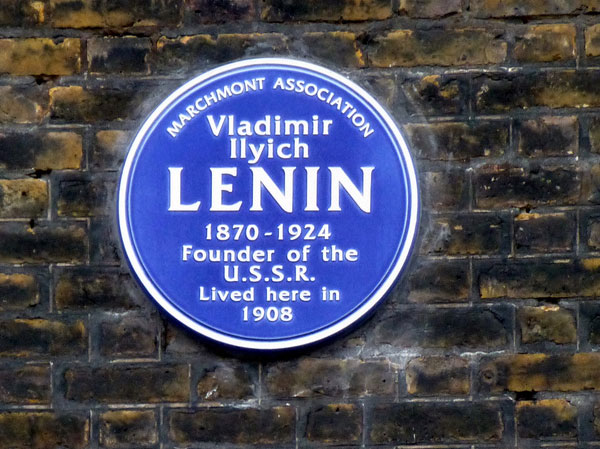 Left and right from some nice pubs, there stands a quiet house on 36 Tavistock Place, Bloomsbury, London WC1H 9RE. At this address (formerly numbered 21) Vladimir Lenin stayed when in London on 1908. He was here to learn tricks from Karl Marx.
The plaque was erected by Marchmont Association on 30 November 2012.
When heard about this plaque, a resident who lives in the area wrote: "Appalling! He was responsible for a movement that caused far more deaths than Hitler, from which the Russians are only just recovering. I intend to email the Chair dissociating myself from the Marchmont Association."
Living on Tavistock Place is ideal for regular users of the Post Office, as a branch is located nearby on Russell Square.
Property prices in area: 40 Seymour House, sold in 2012 for £250,000. 39 Seymour House, sold in 1996 for £58,500. Fifth Floor 2, sold in 2009 for £2,525,000.
Flat 1, 36 Tavistock Place London. Set within an impressive period house, this lovely apartment has a private entrance with strairs to the front. The apartment is well presented with two bedrooms, (one ensuite) and a seperate shower room. There is a lovely private rear garden & barbecue area with a very useful additional storage / shed. Broadband available.
The nearest station to Tavistock Place is Russell Square Tube Station which is about 3 minutes to the South.
16 Percy Circus, London WC1X 9EE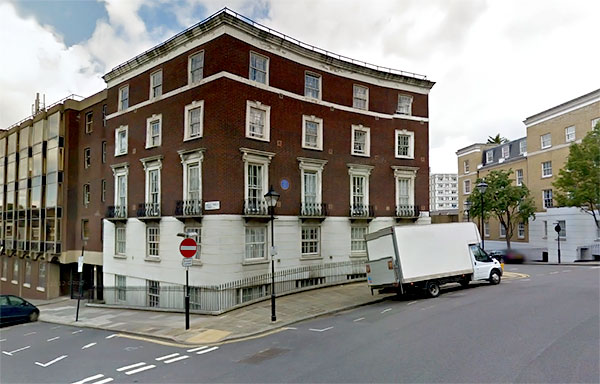 The plaque (openplaques:id=2210) was initially erected in 1962 on the original building which was demolished in 1968. It was erected on the new building in 1972.
Vladimir Ilyich Ulyanov LENIN 1870-1924 Founder of the U.S.S.R. Stayed in 1905 at 16 Percy Circus which stood on this site.
Property at 16 Percy Circus: Flat 1 £160,000 in 2000, £165,000 in 2010; Flat 3 £295,000 in 2001, £450,000 in 2004, £625,000 in 2009; Flat 6 £310,000 in 2001.
Bevin Court. Cruikshank St, London WC1X 9HB
Few people know that a housing project named after Vladimir Lenin was commissioned in London in the early 1940s. Designed by a Russian emigre architect, Berthold Lubetkin, who is now considered one of the giants of constructivism, it was to be called Lenin Court.
But by the early 1950s, when the project was completed, the Cold War was in full flow. As a result, the building was renamed Bevin Court, honouring Britain's firmly anti-communist Foreign Secretary Ernest Bevin.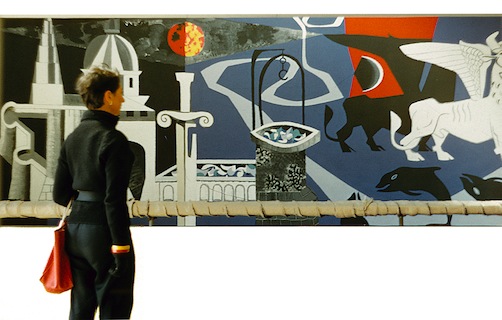 Some of it's spirited tenants still write an address as Lenin Court instead of Bevin Court, and letters get delivered anyway.
The court has a vivid history, it became a focus of pilgrimage for British communists, it housed people from culturally diverse backgrounds, it was regularly vandalised, and eventually needed a 24-hour police guard.
Bevin Court is so enormous, both wide-spreading and tall, that it is extremely difficult even to photograph.
Today, a small memorial board near Holford Square reminds passers by that the leader of the world's proletariat lived there in 1905.
Crown Tavern in Clerkenwell Green
Local legend holds that Lenin met Stalin for the first time in London 1905. At least that is what the staff at the Crown Tavern in Clerkenwell say. It is here that the historic meeting allegedly took place over a booze.
Who ever accompanied Vladimir Lenin that very day, it's a good reason to visit the place, pull up a seat and enjoy a pint of cask ale and a bite to eat. The Crown Tavern, 43 Clerkenwell Green, EC1R 0EG.
Marx Memorial Library in London
37a Clerkenwell Green was a home to many radical organisations. From April 1902 to May 1903 Vladimir Lenin edited and printed here seventeen issues of his newspaper ISKRA, which were smuggled into Russia then.
The house was originally built in 1738 as a Welsh Charity school. It educated boys and later a few girls – the children of Welsh artisans living in poverty in Clerkenwell. Gradually the intake became too large and the school moved to new premises in 1772.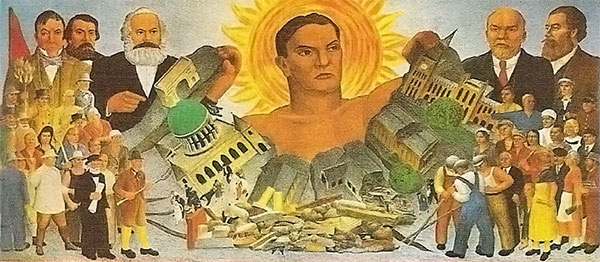 The Marx Memorial Library, the foremost institution serving the British Labour Movement and working people interested in studying Marx and Marxism, occupied part of the building in 1933, eventually taking over the whole.
Here is also a mural, made in 1935. It shows a bare-chested worker surrounded by a blue-eyed Lenin, Marx and Engels. The worker is breaking the chains and shaking the whole world. Big Ben is falling down, burying the capitalists.
The Library is open to members of the public who would like to look around between 1 to 2pm Monday till Thursday. Address: 37a Clerkenwell Green, London EC1R 0DU, England.
Lenin in London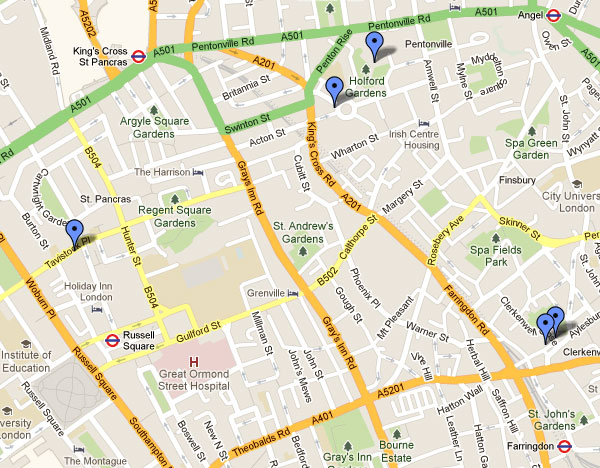 It's suspected that comrade Vladimir Ilyich Lenin wasn't actually that keen on rubbing shoulders with the proletariat, at least not on a regular basis, Russians in London: Lenin by Sarah J. Young.