Eating in London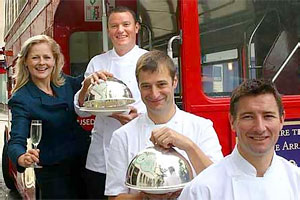 Where to go in London
for a bite to eat...
For generations the British cuisine has been a stodgy plate of fish and chips. But not any more. Today the British cuisine is all about from a hotpot, jellied eels and, yes, chicken tikka masala. Eating in London has made simple, from street food to the best set lunch in town at La Gavroche to the Anchor and Hope, probably the best gastropub in town there is no shortage of eateries in London in all price barcket.
Top five places
where to eat in London
La Gavroche
Michel Roux's Mayfair basement restaurant (established by his father Albert in 1967) is a benchmark for fine dining with the professionalism of its staff and cooking of classic French food. Not cheap but the set lunch is a relative bargain.
Anchor and Hope
King of the gastropubs, London's top boozer for eating and drinking with no frills and hearty portions. The chefs use the finest fresh seasonal ingredients in innovative British dishes often featuring offal or less considered cuts of meat.
The Ledbury
Australian chef Brett Graham's cooking has lit up this Notting Hill pub-conversion, where the all-round experience from food to ambience and service is hard to beat. Two-star Micelin cooking in a relaxed and unstuffy atmosphere.
Shimogamo
A small, quiet Japanese restaurant in quiet Camden Town neighbourhood. The menu offers sushi and sashimi, sukiyaki (hotpots), teriyaki skewers, gyoza dumplings, Japanese salads, soba or udon noodles, and an intesrting range of chef's specials included beef hobayaki, a dish seldom seem in London.
Mazi
An authentic Greek resturant featuring both traditional dishes and the progressive cooking. It's simply and attractively laid out with an all Greek wine list. Dine alfesco at wooden tables under a grapevine, for a taste of Mykonos on a summer's day.
---
Tags: london where, british cuisine, pizza london, where to eat in london, eating london, chinese food london, gastro pubs london, eating out london, pub food london. All photographs that appear on this webpage are copyright their respective owners and London Where claims no credit for them unless otherwise noted.