Nightclubs in London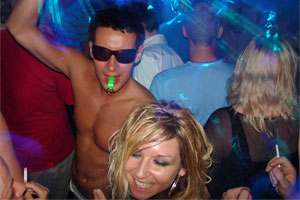 Where to go in London for a club night out…
The nightclub scene in London is one of the coolest and most eclectic of any city on the planet. Clubbers can range across the spectrum from swanky Berkeley Square nightclubs to internationally famous super clubs, from venues offering everything from standard club fare to leading-edge soundscapes. Lend an ear or shake a leg to from everything from retro pop hits and rock'n'roll through funk and disco to dubstep, grime and other bass-heavy sounds.
Top five nightclubs
in London:
Fabric
A superclub in a former meat packing warehouse, it's one the biggest and best night clubs in London with stellar club nights with music ranging from drum 'n' bass, grime and dubstep to techy, minimal, deep house sounds from top name DJs.
Dalston Superstore
An uber-cool New York-style nightclub over two floors, with a concrete, brick and steel industrial decor. It hosts every kind of event from DJ showcases to exhibitions, and hoe-downs to music nights. Expect everything from soul, disco,and house sessions to electronica, mutant-pop and dance.
Proud
A massive 2,600-capacity industrial-styled nightclub and live music venue under the Millennium Dome The revamped superclub raids the globe for flavas of multi-sensory nightlife from camp New York to the glam hedonism of Ibiza. It features a range of celebrity DJs and live bands every weekend.
Notting Hill Arts Club
An arty boho-chic basement nightclub with regular nights like RoTa and Radio Gagarin, which majors on hip-hop, garage, grime, dubstep and everything bass. Events range from genre-defying girls' parties with the hottest female DJs and bands, to amash-up of tough techno and French chanson.
XOYO
A combo of nightclub and event space, XOYO hosts rammed parties and gigs in the dance basement, as well as exhibitions in a gallery space upstairs. Their events aim to engage an audience both in and outside of the conventional culture map incorporating youth, music, the underground as well as fine art.
---
Tags: night clubs, nightclubs london, nightclub london, club night london, clubbing london. Ночной клуб Лондон. All photographs that appear on this webpage are copyright their respective owners and London Where claims no credit for them unless otherwise noted.