Bonfire Night in London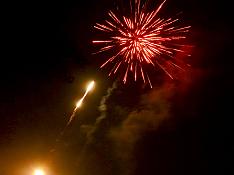 When is the Bonfire Night in London? Bonfire Night aka Guy Fawkes' Day is annually held on the 5th of November. People start banging few weeks before, however the public bonfires and displays of fireworks are organised on or around the 5th. Bonfire Night 2012 falls on Monday, 5th of November 2012. Guy Fawkes' Day is not a public holiday.
The next weekend after the Bonfire Night the Lord Mayor launches a magnificent half hour firework display on river Thames between Waterloo and Blackfriars bridges. Lord Mayor's Show 2012 tooks palace on Saturday 10 November 2012, fireworks begin 5pm. We hope you'll enjoy the day!
On the Bonfire Night not only London but the whole country is buried in the smoke of fireworks. A 34-vehicle pile-up crash in the bonfire smoke on the M5 near Taunton in Somerset leaves seven people dead and more than 50 injured. Detectives investigating one of Britain's worst motorway accidents are focusing on a theory that thick smoke from a rugby club fireworks display might have caused the tragedy. There was no bonfire, but police believe smoke from the fireworks could have drifted on to the motorway a few hundred metres away.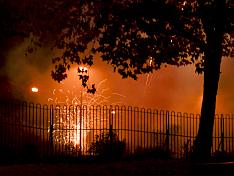 Ambulance workers treat 170 people, with 22 being taken to hospital, police arrests 15 people, as more than 60,000 people take to the streets of Lewes for bonfire night last year. In London and in the UK in general, we have a passion for fireworks.
---
Tags: fireworks in london, firework in london, when is bonfire night, uk fireworks night, fireworks display in london, firework displays in london, bonfire night in london. All photographs that appear on this web page are copyright their respective owners and London Where claims no credit for them unless otherwise noted.