Smollensky's on the Strand
What: After-Work-Drinks on the Strand
Where: Smollensky's on The Strand - Bar and Grill, 105 Strand, London UK
Neighbourhood: Charing Cross
Cuisines: American, Grill
Price: Free entry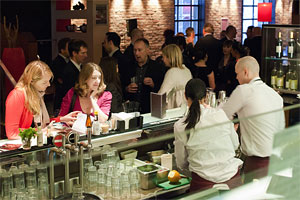 Smollensky's review
Smollensky's bar/grill on the Strand is possibly one of the best and most stylish places in London. On our previous visits to this venue the music has been set at a comfortable level all night so it's easy to engage in conversation with others. After 8pm there will be live DJ performing. Furthermore, Smollensky's also has free entry. The venue closes around midnight.
Guests will have the option to order bar bites/snacks in the bar area. There is also a great restaurant in Smollensky's. However, as it's so popular, guests will have to pre-book a table. So if you decide to spend an evening at Smollensky's and want to eat in the restaurant, we would recommend contacting them to see if they have spaces to pre-book a table. Smollensky's telephone number is 020 7497 2101.
We hope this has explained everything about Smollensky's, but if you have any queries then please do not hesitate to contact Smollensky's via email or phone.
Comments on Smollensky's on Strand
---
Smollensky's review from ila99
Smollenskys is wicked, I had my hen party there. Staff was very friendly from beginning to the end of our brilliant night out.
Cocktails- you have to taste to understand, very tasty and quick service. If you thinking of good hen night, have to be Smollenskys on The Strand.
Bride to be :)
---
Smollensky's review from HR
I wish I had read the reviews before going. Avoid this place and spend your money at other, more deserving, restaurants. The service we got was rude, the cooking is not upto standard and the menu was expensive.
---
Smollensky's review from Amanda
We went to Smollensky's last night after spotting their amazing pre-theatre menu - exceptional value and the portions are huge, only £9.95 for two courses Monday to Friday before 7pm. The chicken Alfredo pasta was massive and really fresh, and they are not lying when the say fresh homemade desserts, you have to try the peanut butter cheesecake – heaven! It's good for kids on weekends too my mum tells me, make sure you try the cocktails in the bar, the guys are incredible.
---
Smollensky's review from Dinner
The Good:
-not busy so we were able to choose our own seats
-friendly waiter
The Bad:
-no one at the host desk so we spent several minutes standing waiting for someone to seat us
-Drinks menu is deceiving as it has liquor prices 'from £x.xx' so the customer is only aware of the cheapest type of any liquor
-my grey goose and tonic (£7.20) was served without a lemon, lime or any garnish and with a massive childrens straw, and I thought it impossible to make a bad G n T!
-automatic gratuities of 12.5% where our servers didn't deserve that much of a tip.
---
Smollensky's review from john murphy
I had a fantastic night @ smollenskys on the strand; food very good, atmosphere brilliant, service excellent! I will definetely come back again.....
---
Smollensky's review from James
I really like Smollensky's, both as a cocktail bar and a restaurant. The cocktail waiters are friendly and professional, and they make a mean vodka martini.
The food is good, doesn't take too long to arrive and isn't too expensive.
One black mark though - Smollensky's is the only place where I've ordered a vodka martini and been served ice water with a hint of vermouth with a lime twist. I kid you not, the waiter had forgotten to pour the vodka into the shaker.
I did point this out to him, but he denied that he'd forgotten the vodka, and claimed that it was simply very smooth.
I have drunk literally hundreds of vodka martinis in my time, and this was the most dramatically different martini I'd ever experienced. I can assure the reader that there wasn't the slightest trace of vodka in it.
Since I was celebrating my birthday and I wasn't inclined to cause a fuss, I just left it and ordered another one, which was fine. I'm sure it was an honest mistake on the waiter's part.
---
Smollensky's review from BaldersOxon
We reserved a table online for a meal after the theatre. We had a beautiful steak cooked to our liking, the staff were very friendly and efficient. Please be aware that the service charge is included in the bill. We would use this restaurant again.
---
Smollensky's review from dellap
Wow, where do I start?
I had a short visit in London so I decided to go visit a few associates--we met here.
The waiter was terrible. The tip was included in our bill and I guess he decided since we were paying the tip anyway that he didn't have to care. He didn't care and it showed. It got so bad that we had to ask other people to help. He had a french accent so that may have been the problem.
The food was nothing to brag about. It was so below avg. that I can't remember what I ate and I ate there less than a week ago. Oh, I did have a turtle brownie like dessert that was suppose to come with ice cream. They gave us (4 others ordered the same dessert) a teaspoon (maybe half a teaspoon) size of ice cream. I wish I was exaggerating. After the first bite of the turtle brownie dessert with the ice cream you quickly realize that you cannot down the brownie without the ice cream (too thick and rich). We all quickly asked for a real serving of ice cream (we got maybe two tablespoons full). Most people did not have enough ice cream to finish the brownie. So most left half the brownie uneaten. 15 out of 17 of us ( two left early ) left unhappy....so there was a real consensus.
I wish I could say something good but ...well the restaurant is nicely decorated. Decor is pleasing.
---
Smollensky's review from jennysue
My first few visits to Smollensky's in the Strand were girls' nights out, but since I met my second husband it has become our no.1 special romantic dinner venue.
---
Smollensky's review from Anonymous
There were 4 of us together enjoying our evening. We were one of the first people in there - only another 4 tables. One of the party ordered soup and the rest ordered mussels. the soup arrived 3 minutes later with the mussels taking a further 15 minutes. We then had to wait a further 40 minutes for our main course. Dessert took a further 30 mins. Wasn't impressed
---
Smollensky's review from SP
Smollensky's on the strand offers a limited menu on the offer, and the dishes are a bit hit and miss. Main problem for me is that they overcook their beef, even if they are told specifically not to.
Some dishes are delicious whilst others disappoint, but nonetheless Smollenskys on the Strand is a friendly place in which to enjoy a relaxed evening with friends or to treat your kids. With three courses plus half a bottle of modest wine costing about £40 per head, it wouldn't be unreasonable to expect more evenness in the cooking – the addition of live music as well as the reasonably priced set menus offers more value for money.
---
Tags: night clubs, smollenskys nightclub in london, smollenskys, nightclub in london. All photographs that appear on this webpage are copyright their respective owners and London Where claims no credit for them unless otherwise noted. The views contained in these reviews are not endorsed by London Where in any way and are provided by users of the World Wide Web who wish to publish their independent views of the respective establishment.