Drink in London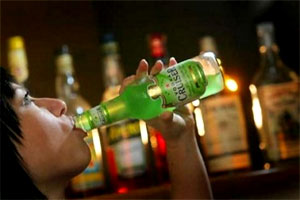 Where to go in London
for a drink…
There's never been much of a problem finding somewhere to drink in London, particularly since the antiquated licensing laws were relaxed, though changing social attitudes have seen the demise of thousands of local backstreet London pubs. The good news is that their replacements offer a far more interesting drinking experience with a range of pubs, cocktail bars and karaoke bars serving everything from real ale from local microbreweries to exotic mixology.
Top five
bars and pubs in London:
CalloohCallay
A classy Shoreditch bar taking its inspiration from Lewis Carroll's nonsense poem 'Jabberwocky'. It has a funky, laid-back vibe with weekend DJs and an innovative seasonal drinks menu with some original mixology.
The Salisbury
A traditional London pub in St Martin's Lane, this an ornate gin palace is a triumph of Victorian exuberance. The interior still boasts its original glass, mirrors and mahogany and fittings, with some sympathetic updating.
The Jolly Butchers
An old local London pub reinvented as a craft beer drinking spot, for the new generation of drinker. It offers everything from Belgian raspberry ale, Bavarian smoked beer to Brooklyn lager with local beers frommany of London's finest new brewing start-up micro breweries.
The Compton Arms
Stroll down a Canonburyback street to the Compton Arms, one of the pubs that inspired George Orwell to write his 1946 tribute to the perfect English pub. It's a small relaxed local serving a decent pint of Greene King IPA with a decked garden at the back.
28°-50° Fetter Lane
A relaxed and friendly wine bar and restaurant with great wine and exceptional food, the focus is on the wines with an interesting selection of more than 30 available by the glass, bottle or carafe plus French bistro-style food and charcuterie.
Old habits die hard. If ever. The effects of alcohol on behaviour are determined by cultural rules and norms, not by the chemical actions of ethanol. For women 14 units of alcohol a week is the recommended limit, and for men 21. A glass of wine is the equivalent of one unit, and a pint of lager two. The legal UK drink-drive limit is 3..4 for men and 3 for women. Know your limits and be safe around the Christmas!
---
Tags: bars london, pubs london, pubs and bars london, cocktails london, where to drink london, cocktail bars london, drinking london, karaoke bars london.
All photographs that appear on this webpage are copyright their respective owners and London Where claims no credit for them unless otherwise noted.