Gem bar in London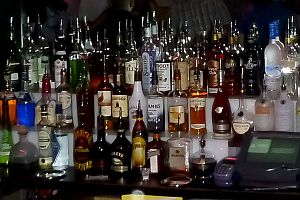 Gem bar in London is a short walk from either Piccadilly Circus or Oxford Circus tubes, Gem (former Digress) is just round the corner from the great shops of Carnaby Street, Oxford Street and Regents Street - perfect for a spot of lunch or a drink after you've shopped til you drop. Gem in Soho combines a cool lounge style with a more decadent Moroccan style.
Gem Description
Gem is a true London party destination with an atmosphere that will force you to get your groove on. Gem bar and club is definitely the place to be! Their versatility and range of different packages allows them to cater to any event, party or special occassion for your night out. Gem bar on the ground floor looks lavish, sleek and sophisticated and is an ideal place for your Soho night out. Located in the heart of Soho, Gem offers a luxurious surrounding to enjoy a bite to eat, cocktails, after work drinks, late night clubbing and various celebrations. Based over two floors, the interior at Gem is all curved leather booths and dramatic chandeliers and with DJ's throughout the week and weekend this is the perfect place to head to after dark. If you are looking for a late night Soho bar or club then Gem is one of the best options in central london. Book your guestlist or tables to get free entry and drinks deals. Gem bar is operated by Novus Leisure.
The Atmosphere
This isn't the place for a quiet drink - even on nights when there's no club event happening, the music is turned up loud and, as a result, so is the volume level of conversation. The clientele is a mixture of the post-work and pre-club crowds, and both elements seem to be up for a laugh and a dance. With very personable table service there's no frustrating jams at the bar, even when it's busy, and the staff seem clued-up enough to make decent suggestions and recommendations from the menu.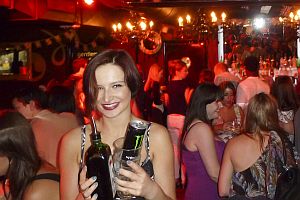 Gem bar has menu for lunch, dinner or casual drinks and nibbles with friends.
Lunch
You can choose from a range of appetising dishes including Gem bar heart-warming steak, mushroom & Irish stout pie or delicious burgers. Gem has also introduced a sensational £4 Express Lunch, including a mouth-watering chilli con carne and delightful classic caesar salad.
Bar Food
If you are not particularly hungry you can share a Rustic Platter with friends - herb and spice crumbed chicken fillets, stone-baked pepperoni pizza, honey and mustard chipolatas, carrot and celery sticks, herb-marinated olives and rustic potato wedges, served with a selection of dips, all for 15 pounds. Or you can try one of Gem club new traditional stone-baked pizzas like Aromatic Duck and Hoi Sin topped with shredded spring onions.
Drinks
In Gem bar you can enjoy a Spiced Raspberry Daiquiri, with Bacardi Oakheart shaken and strained with raspberry puree, lime and a sash of grenadine. Gem bar cocktail menu features classic creations and new favourites, including the gold blush sharer, a shimmering martini with Eristoff Vodka, Archers, apple and cranberry juices finished with chilled Prosecco. Delivered with sparkle in a large martini glass. We also have a range of wines that are sure to impress, and lovely bottles of bubbles to really get the party started! Pint of lager costs here £4.50, large glass of wine £7.00, bottle of house wine £16.50, bottle of champagne £48.00
Happy Hour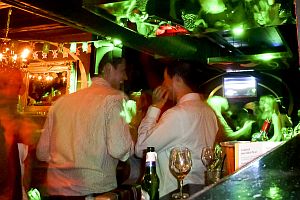 Gem bar has an happy hour every day from 5pm till 8pm. 50% off drinks and £7.95 platters. On Thursdays the Gem club extends the happy hour untill 10pm.
Gem bar facts
What - The Gem bar in London
Where - 10 Beak Street, Soho, London W1F 9RA
When -

Monday: 12 noon - 1am
Tuesday: - Saturday: 12 noon - 3am
Sunday: 12 noon - 12.30am

Admission -

Monday - Wednesday: Free
Thursday - £5 from 10pm, guest list £3 before 11pm
Friday - £10 from 10pm, guest list £5 before 11pm
Saturday - £10 from 9pm, guest list £5 before 10pm

Map - Find the Gem bar in London Soho on a map
Web - Gem
Reviews of Gem bar from the club goers
---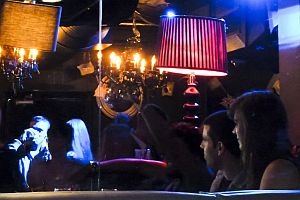 Review of Gem bar from Mathilde...
I've been there yesterday night, It is a nice place for a Happy Hour, 5pm to 7pm. All their cocktails are Half Price, Margaritas, Mojitos, Caipirinha... only £3.95. It's such a really interesting price for an After Work!
---
Review of Gem bar from sarah_lee
It was my second evening at Gem bar with a group booking. I had the 4* package and I also availed of the happy-hour drinks by pre-paying in advance. Loved the music - plenty of classic from 80s and 90s. The floor manager with a (strong European accent) is brilliant. He was very customer focused and took control when the other floor staff was unsure. 100% recommend Sarah
---
Review of Gem bar from Cjay37
Went there for my birthday last night, booked a table for lunch (and what I thought the evening too) spent all afternoon in there, staff were friendly food was ok bit overpriced for what you get, then as soon as the evening came the whole atmosphere changed we had to move tables twice due to mismanagement in reservations, one of the table hosts was very rude, the bouncers cannot call themselves gentlemen. London is BIG place so please go to a bar which shows Londoners can be friendly and you can have a good time... this place is overpriced and mismanaged and rude staff! Very disappointed, as you can see from the other reviews, so we can't all be wrong!
---
Review of Gem bar from boysdontlike
Warning don't give credit card tips, the girls and boys behind the bar don't get the money, bad management. I know people who worked there they get a lot of credit card tips and the company didn't pay out 10% of them. Shame on you Gem that is called stealing. So don't give any credit card tips! Spread the word!
---
Review of Gem bar from Ladlon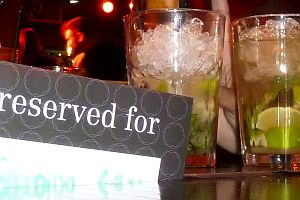 Completely bummed out by this place. Went out for a bit of fresh air and the door men wouldn't let me back in. Apparently I was supposed to get a stamp? I was only out for like five minutes.
Can't believe all the attitude, as the place was more than half empty anyway.
I wouldn't ever go back.
---
Review of Gem bar from barcrawling
Having been to the bar when it used to be Digress, the new look of the bar is definitely a step up having been there on Saturday night.
Positives:
A good crowd
The guys at the door were nice
The bar staff provided a good service.
Negatives:
Two floors - both playing the same music!
Single Jack Daniels - £4.20. Double Jack Daniels - £9.00! Ermm... bar maths gone very wrong! The bar staff found it bizarre, said that I was the first to notice it and were kind enough to refund me the 60p due to me. I hope the matter is dealt with and the prices fixed because I am sure plenty have paid more than they need have in the past.
The music although eclectic I felt constantly switched genres almost every song which I personally am not a fan of and any bar that plays Zig a Zig aah by the Spice Girls gets automatically marked down for me. But if that's your thing then bump this as a positive for you.
---
Review of Gem bar from ohappydays
Went here after a very long day out with girlfriends. Well placed venue. On arrival, it was very busy. A table had been reserved for a party that was 2 hours late. When I approached to door man, he agreed, they have not turned up so we could have the table. 13 Ladies, 13 drinks £29.95. If anyone can find a better price than that, I'd love to know. Bar staff really helpful, I gave them a list on a napkin of all the drinks and they got on with it with ease. Thank you.
---
Review of Gem bar from PhilGlew
Restaurant? Really?! I went here for a few nibbles and drinks after work. Apparently, its a restaurant. If I had eaten there, I would have been shocked. Awful place. Crowded, loud, like a nightclub! Won't be going back.
---
Review of Gem bar from SophieJH
Very good evening, service was great. Myself and 3 friends made reservations at The Gem bar for an evening out in London. We had a great time and the food was very tasty. We arrived just before 8 o'clock which was their happy hour so we received 50% off of our food and drink bill! Excellent all round. For a night out with friends I think this is an excellent place to go.
---
Review of Gem bar from Joanne L.
Nothing too special about this bar except its happy hour 5-8pm, half price food and cocktails. The Long Island was pretty good, £3.40 during happy hour. It was okay crowded when I went on a Tuesday evening, and after a drink or two, we were able to grab a table. The place tried too hard to be a club on a Tuesday evening though. The lights dimmed around 9pm and the red disco lights started revolving... annoying cause I was trying to have a conversation and the strobe light was getting in my eye. Dime a dozen in London, would only come back during happy hour!
---
Review of Gem bar from trunkguy
Where do I start?
Well we booked on a half price deal so it seemed like we were in for a good deal and a good time.
The venue is decorated in a gaudy dark silver and black fashion - the kind of design you see in B&Q ads and in show homes. It was a gloriously sunny day in London and yet there was no natural light allowed to penetrate the harsh decor.
The music was also VERY loud. And very dated. All the tracks played were from the 80s and a few early 90s.
I am not sure if this is the ideal place to eat and if you came to drink you'd run the risk of not being able to hear anyone - even the bar staff wore ear plugs.
Now I must say the male waiters were very easy on the eye and the women seemed leggy (if you like that kind of thing) - sadly though looks cannot compensate for the lack of intelligence. It took several attempts for the waitress to take our orders and she had to come back several times to check things even though she'd written them down.
The general standard of the food was nice but it's very expensive. Even paying half price it felt like we were being ripped off. We ordered a starter platter and I doubt it would have fed one let alone a small group - we finished it so quickly the waiter hadn't got back to the kitchen before the plate was clean.
Ordering drinks were a mission - the cocktails took ages for the bar staff to prepare (their cocktail menu isn't very big so you'd think the staff would know what they're doing) and when it came to wine we were flabbergasted! We tried to order three different bottles only to find out they didn't have any of them. We ended drinking a mediocre Sauvignon Blanc - purely because this was all they had!
The payment system was different (to be honest bloody annoying). Instead of paying a bill they insisted you paid money up front when reserving the table, paid a tab and continued as such. We put some money on the account when we booked but when we handed our card over to keep a tab we didn't realise the waitress automatically deducted £50 from our account - this she tried to continue through the evening whenever we went over our total balance! This was very odd and made the evening frustrating as someone had to constantly pay and we had to keep all our receipts so we could work out what the total amount was.
If you want a loud hip bar where you can be ignored by dim staff and be watched while you pee (yes the man in the bathroom handing our towels was so close you couldn't help but feel you were being watched whilst peeing), then this is the place for you.
If you want somewhere central in town where you can catch up with friends and enjoy a nice meal and a good bottle of wine - avoid avoid avoid!
---
Review of Gem bar from Andrew M.
A hidden gem, this is not. I've been revisiting my experience here trying to decide if I liked it or not. And to be honest I'm still not sure. It has all the makings of a great place on the edges of Soho, but greatness is in the details and here Gem bar falls flat on its face.
I liked... the music. It was a good mix of RnB and top of the charts with a bit of lighter house thrown in for variety. Easy to dance to and enjoyable to listen while sipping your drink of choice.
But... the DJ/pre-mix was horrendous at transitioning between songs which started to grate on my nerves.
I liked... the layout and décor. Nothing fancy, but it matched the good vibe I was getting and gave the impression of lots of space, even in the below ground area. Lots of private booths so great for larger groups and it felt safe leaving your stuff there.
But... the crowd was something else. I'll admit to being a bit shallow and wanting some pretty girls around, but that's not a deal breaker. Feeling surrounded by women old enough to be my mom but dressing like my younger sisters... that's a bit too much.
I liked... that speed at which the bartenders served drinks and shots. Waiting at the bar is just wasted time so being able to get in and get served is a win.
But... the glassware was dirty (even the plastic shot glasses hand thumb prints) and the beer selection limited. So while I could get a drink, my sober self was hesitant to actually drink it.
So you see my dilemma... it had it's good spots and its bad spots so overall I'm left feeling a bit meh about the whole thing. There are plenty of other places that excite me but I will say this was one of the better for groups. If you've got a big enough one, then you can ignore the rest of the crowd and a few pre-drinks will take care of your sober standards.
---
Tags: gem bar london, gem club london, gem soho london, gem nightclub london, gem bar soho london, gem club soho, gem bar london reviews, best bar in london.
The views contained in these reviews are not endorsed by London Where in any way and are provided by users of the World Wide Web who wish to publish their independent views of the respective establishment.
All photographs that appear on this web page are copyright of London Where and London Where claims credit for them. Nevertheless you may use these images without prior permission for any non commercial purpose as long as you link back to this web page.
Gem is a funky late night venue that offers a variety of drinks and international cuisine. Located over two floors, the ground floor is a relaxed lounge area whilst the basement is a stylish club space called Crystal Bar.