Kensal Green Cemetery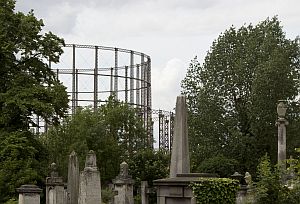 Kensal Green Cemetery located in the heart of London traversing the borders of Kensington & Chelsea and Hammersmith & Fulham is one of London's oldest and most distinguished public burial grounds. Inspired by the cemetery of Pere-Lachaises in Paris and founded in 1833 by the Barrister George Frederick Carden Kensal Green Cemetery comprises of 72 acres of beautiful grounds including two conservation areas and an adjoining a canal. The cemetery is home to 33 species of bird and other wildlife. This distinctive cemetery has a host of different of memorials ranging from large mausoleums housing the rich and famous to many distinctive smaller graves and even includes special areas dedicated to the very young. With three chapels catering for people of all faiths and social standing the General Cemetery Company is proud to have provided a haven in the heart London for over 170 years for its inhabitants remember their loved one in a tranquil and dignified environment. Kensal Green Cemetery Online.
Kensal Green was one of the most fashionable cemeteries in England from the funeral of HRH The Duke of Sussex in 1843 to that of his nephew HRH The Duke of Cambridge in 1904. It's notable personalities include some 650 members of the titled nobility and over 550 individuals noted in the Dictionary of National Biography. Kensal Green is the resting place of the engineers Sir Marc Isambard Brunel and Isambard Kingdom Brunel, the mathematician Charles Babbage, and the novelists Wilkie Collins, Anthony Trollope and William Makepeace Thackeray; Lord Byron's wife, Oscar Wilde's mother, Charles Dickens' in-laws and Winston Churchill's daughter; a cross-dressing Army doctor and the surgeon who attended Nelson at Trafalgar; the creator of Pears' Soap, and the original WH Smith; the funambulist Blondin and the Savoyard George Grossmith; the first man to cross Australia from south to north, and the last man to fight a duel in England; the Duke's nephew who ruined the richest heiress of the day, and the English adventuress who became a French baronne disgraced by the accusation of murder. The Friends of Kensal Green Cemetery, friends enjoy unlimited free access...
---
A cemetery is a spatially defined area where the remains of deceased people are buried or are otherwise interred.
Tags: cemeteries in england, cemeteries in london, crematorium in london, kensal rise cemetery, kensal green cemetary, famous cemeteries in london. All photographs that appear on this web page are copyright of London Where and London Where claims credit for them unless otherwise noted.