Grace in London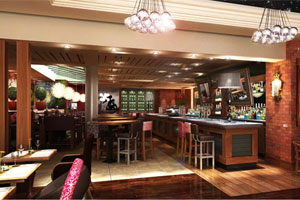 Grace club and bar
Grace Club is one of the best nightclubs in London, located in the heart of the West End. Grace in London is a very classy venue with a number of very distinctive areas, including a lounge, cocktail bar, nightclub, dancefloor and restaurant. Grace is just seconds away from Piccadilly Circus tube station. The exact address of Grace Bar and Nightclub in Soho is 42-44 Great Windmill Street, London W1D 7NB. Grace Bar Restaurant Lounge Club.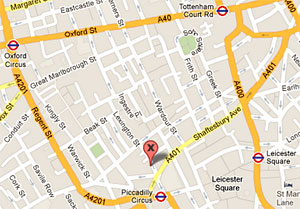 Hours: Monday to Saturday 12pm till 1am, Sunday 12pm till 10:30am. Admission: Thursday to Saturday after 10pm non-guestlist £8, guestlist £5.
Venues at Grace
Grace features a Grace Bar, Milk Bar, Cocoa Club, Cocoa Club VIP, a ground floor restaurant called The Terrace, Private Dining Room
Grace Bar - capacity 300
Grace's expansive main bar is lined with private booths and a beautifully-crafted bar on either side. Use the individual spaces separately or combine them to create the perfect backdrop for any corporate occasion
Milk Bar - capacity 250
Chic, modern design and elegant black and white décor provide the perfect setting for events that need a little touch of glamour.
Cocoa Club - capacity 350
The Cocoa Club welcomes you in with its dark chocolate interior and luxurious leather booths. The versatile open plan layout allows you to mould the room to your requirements, catering to a range of corporate events
VIP Lounge - capacity 40
Exclusive and luxurious, perfect for those smaller more intimate gatherings
Terrace Restaurant - capacity 250
Beautifully decorated, the restaurant can easily be roped off and reserved exclusively for 3 course dinners, champagne & canapé receptions or networking events.
Private Dining Room - capacity 30
A completely private room set off from the main restaurant. Equipped with the latest AV equipment and perfect for working lunches or team Christmas parties.
Grace club reviews
---
Grace club review from kateminelli
My friends and I visited Grace Bar for their Ibiza themed party last month and had a fantastic night! Great service in their private dining room, then an amazing time down in the club. Achy heads the next day, but definately worth it. Can't wait to go again!
---
Grace club review from Bright890
GREAT NIGHT OUT!! Came down to Grace last week Thursday with some work mates n had a lovely time! Not only were all drinks 50% off till 10pm but we were given an amazing area! We will definitely be returning!! Thanks Grace!! X
---
Grace club review from Mclovin1989
Incredibly rude staff, if your gonna go to this place you better talk quickly when ordering your drink, otherwise the bar lady will roll her eyes back and walk away from you. If you have a stammer then you've got no chance in this place, I just walked out when i got that rude response, don't go here, the staff are extremely miserable and rude.
---
Grace club review from kd87
Came back and had lunch with my mum yesterday. Good service, fantastic value for food and right bang in the middle of everything great place to go after a hectic morning of shopping.
---
Grace club review from GG87
Grace last night was brilliant!!! Myself and 12 of my girlies came down for my hen night and I couldn't have chosen a better venue! Staff were organised, the General Manager came and actually greeted me asking how my night was! There was an amazing Private Dining Room Area, which I was upgraded too without even asking! Milk is amazing (hidden cocktail bar downstairs) where me and my party enjoyed a booth with friendly service. Definitely recommend it!!!!!
---
Grace club review from Platformslut
Long island ice tea = 1 shot of mixed alcohols. Not good.
---
Grace club review from John O
Saturday evening - not too busy but the service was mostly terrible. A small number of staff were helpful but overall very disappointing. The food was ok when it eventually arrived after a very long wait. Poor service.
---
Grace club review from salsaaudi
We found this bar accidently. The club was open until 3 am on sundays! We were at the bar first and had a great time with some good coktails. Bartenders were smiling and were serviceminded. They made us cocktails for a resonable price and the music at the bar was at a level it did not interup our conversation. We went later to the club downstairs and hade a good time dancing. The guests at the bar and club were friendly and we had a great time at this bar and club.
---
Tags: grace club, the best nightclubs in london, grace bar, grace london, grace bar in london, the grace bar piccadilly. All photographs that appear on this webpage are copyright their respective owners and London Where claims no credit for them unless otherwise noted. The views contained in these reviews are not endorsed by London Where in any way and are provided by users of the World Wide Web who wish to publish their independent views of the respective establishment.