Speakers Corner London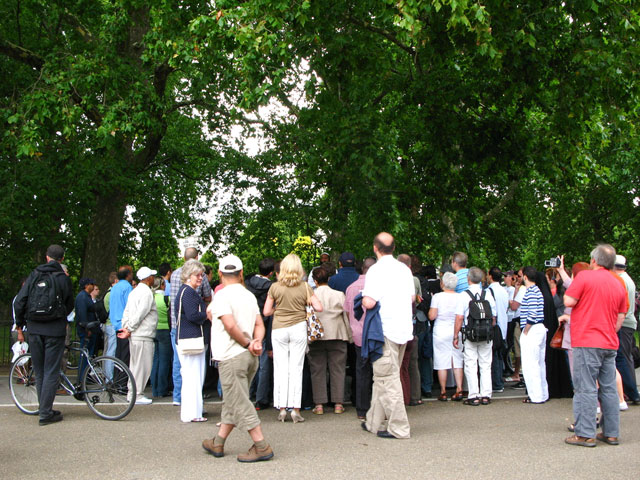 Speaker's Corner in Hyde Park, London.
Visit to Speaker's Corner
For over 150 years, Speakers' Corner has been one of London's most unique and eccentric attractions. On any given Sunday morning, anyone who has an opinion to air and anyone who will listen will gather at the point where Oxford Street and Hyde Park meet, in the shadows of Marble Arch and carry on an oral tradition that is becoming somewhat lost to a modern culture of email and online chat rooms.
On a typical spring morning, walking around from huddle to huddle, you will hear discussions on everything from the state of declining moral standards in the world to football. As on any Sunday, a Christian contingent will be well represented among the speakers. Some of the more extremist denominations cause obvious discord among the crowds and can make for some of the more memorable sights at the corner as they verbally battle the hecklers.
Speakers require no qualification or invitation. It is as open a forum as you are likely to see anywhere in the world, a classless forum where one can really see grassroots democracy at work. Speaker's Corner, Hyde Park by Off to London.
A Speakers' Corner
A Speakers' Corner is an area where open-air public speaking, debate and discussion are allowed. The original and most noted is in the north-east corner of Hyde Park in London, United Kingdom. Speakers there may speak on any subject, as long as the police consider their speeches lawful, although this right is not restricted to Speakers' Corner only. Contrary to popular belief, there is no immunity from the law, nor are any subjects proscribed, but in practice the police tend to be tolerant and therefore intervene only when they receive a complaint or if they hear profanity. Speakers' Corner by Wikipedia.
History of London's Speakers' Corner
In 1872 Parliament granted the Park Authorities the right to permit public meetings and Speakers' Corner, already heavy with history, was born. For over a century it has been a focus for protest and debate and the symbol of a free society and a mature democracy.
There for over a century men and women, some famous (including Karl Marx, William Morris, Vladimir Lenin, George Orwell, Marcus Garvey and Lord Soper) but most not, have dissented and denounced, canvassed and converted, preached and proselytised, and in so doing given expression to the fundamental rights of citizens to gather together to hear and be heard. A Brief History of London's Speakers' Corner by Speakers' Corner Trust.
Talking in Speakers' Corner
I went to Speakers' Corner in Hyde Park in London this weekend, my first time for a while. It was largely populated by the usual suspects, so a friend and I played Speakers' Corner bingo: creationist (tick), evangelist (tick), Muslim preacher (tick), love not lust (tick), strangely-hatted man saying nothing much about anything at all (tick). Others were more surprising—one woman in full regalia stood on a box to extol the brilliance of Munich's beer festival, and was heckled for speaking partly in German. Depressingly, another woman was engaged in an anti-immigration rant.
Speakers' Corner in Hyde Park is listed in every guide book to London, a living landmark to a historical tradition. On Sunday there were visitors from every part of the globe, taking photos and recording speakers. But a number of the people I met there live in the capital: an articulate Pole arguing with the anti-immigration speaker; a man wearing a T-shirt with "Islam is the answer to racism" who was wary of my questions but said he came to clear up some myths about Islam; a 17-year-old "Irish-Indian" called Jamie from south London has his own YouTube channel and visits Hyde Park several times a year; an Egyptian man called Walid who spoke almost no English after two years in London but was videoing the proceedings. Speakers' Corner, Talking it over by Economist.
From Speakers' Corner
Not strictly classed "entertainment", this bastion of British free public speech and free assembly can prove one of the most absorbingly unique, theatrical activities the city has to offer. Located on the corner of Park Lane and Cumberland Gate, opposite Marble Arch tube, Speakers' Corner is the spiritual home of the British democratic tradition of soapbox oratory. Every Sunday since the right of free assembly was recognised in 1872 in the Royal Parks and Garden's Act, people from all walks of life have gathered to listen to speeches about anything and everything... and to heckle. From Socialism to Sunday trading, sausages to space invaders, the opinions aired here are varied and fascinating. Speakers' Corner by LondonTown.
When to visit Speakers' Corner, times
Every Sunday since 1866 a range of different speakers gather at Speakers' Corner to air their views and the tradition continues today.
Although Sunday morning is the best time to visit, speakers can now be found on the corner throughout the week.
Speakers' Corner times: from morning till late afternoon.
Where is Speakers' Corner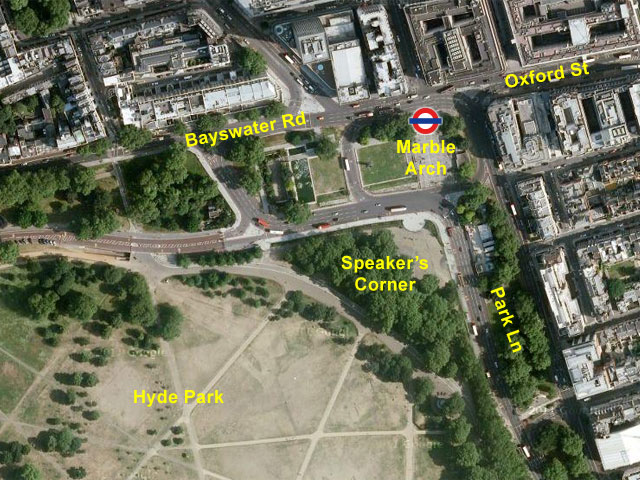 Speakers' Corner is situated in the top right hand corner of Hyde Park opposite Marble Arch.
The original and most famous Speakers' Corner is in the north-east corner of Hyde Park in London.
The most convenient public transport is underground, take Central Line subway to Marble Arch tube station.
Nearest Tube Station - Marble Arch (Central Line).
---
Tags: Speakers Corner London, Speakers Corner Hyde Park, Speakers' Corner, Hyde Park, London, UK. All photographs that appear on this web page are copyright their respective owners and London Where claims no credit for them unless otherwise noted