Museum of London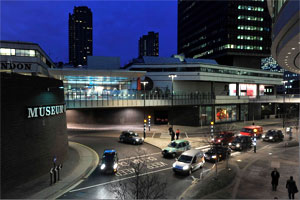 If you want to learn about the history of London then this museum is the ideal location. The Museum of London documents the history of London from the prehistoric to the present day. The Museum of London is one of the world's largest urban history museums and cares for over two million objects in its collection. The young people curating the exhibition 'Our Londinium' have reinvented the Roman London gallery. Through films, sculpture, audio-visual displays and objects from 21st century life, discover how Roman London still lives on in today's modern capital.
Furthermore, on your visit you can also see the special temporary exhibition on the future of London. This 'London Futures' exhibition displays the potential impact of climate change on London in the future through a series of digitally transformed photographs of London. Examples of the striking images that will be on show include Parliament Square put to work as a rice paddy, ice skating down the Thames, Buckingham Palace surrounded by a sea of shanty housing and the Gherkin occupied by thousands of eco-refugees. These images shockingly highlight the realities we could face.
Entry into the museum is free. Hook to a group or explore the museum by yourself.
What: Museum of London - Including 'Future of London' Exhibition
Where: Museum of London, London Wall, EC2Y 5HN
When: Monday to Sunday: 10am-6pm
Admission: Free
Map: Find the Museum of London on a map
Visitor's comments on Museum of London
---
Museum of London review: John
I think this museum gets overlooked a bit compared to some of the other more well known museums in London, but unlike those other museums it is actually about London, which to me makes it particularly interesting.
---
Museum of London review: William S.
This is the place to go if you are interested in Bronze age swords. An absolute wealth of Ewart park swords along with a very fine Limehouse sword.
---
Museum of London review: User
I always enjoy to spend some good time in the museum. Great collections and amazing food.
---
Museum of London review: seb34
An incredibly thorough and continuing display of centuries of London history. Particularly engaging, as the museum sponsors and fields a large number of on going archaeological studies. Make sure to give yourself enough time to see the whole thing!
---
Museum of London review: Zagat
Great museum, wonderful exhibits. It's free! Large lockers if you're traveling with a load. Fabulous place to spend a rainy day.
---
Tags: the museum of london, where is the museum of london, museum of london map, museum of london location. All photographs that appear on this web page of London Where are copyright their respective owners and London Where claims no credit for them unless otherwise noted.