Where to buy buttons in London?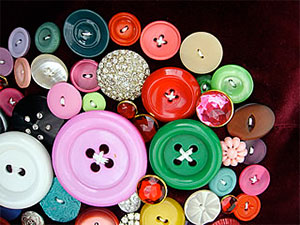 Buttons, London, where to buy buttons in London?
You've got a new jacket. It suits well, just the buttons are bit too flashy. You want to buy new buttons for that otherwise neat jacket. London, where to buy buttons?
Shopkeeper who sold the item, has no buttons on sale but agrees kindly to change them on my jacket for 10 quid,
if I provide the buttons. Thank you!
Where to buy buttons?
John Lewis, on the 4th floor one can find buttons, needles and threads. Buttons are from 50 pence to 80 a piece. A pack of needles circa a pound and a half. Threads around £1. Alas, the selection of buttons to buy is surprisingly poor and nothing suitable for a blazer at all. Any ideas?
Can I buy buttons at a sewing-shop?
Madam of Mediterranean Origin says that she does not sell buttons, but she can sew them for 5..6 pounds for me. Buttons of course, have come from me. Where to buy buttons in London? John Lewis or Camden Market she shrugs. Many thanks.
Where to buy?
Further bright ideas where to buy buttons are a military surplus and an Oxfam shop. My two-button blazer has got 4+4 buttons on cuffs, that could total up to 10 pounds. If I could find an item below this price tag... scissors I have got my own.
The best place to buy buttons, is a button shop!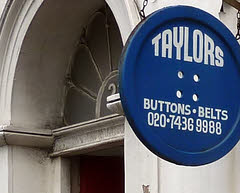 Talk to people.
- Do you know where to...
- Buttons? Here, around the corner...
And there it is - Taylors Buttons & Belts,
22 Cleveland Str, London. The shop is bit worn and dusty, but stuffed with buttons, buttons from floor to ceiling. This button shop has been in business since late 1800s. They know the stuff. World of buttons is theirs. Belts too.
- Buttons for a jacket? Silver? Brass? Navy blue perhaps?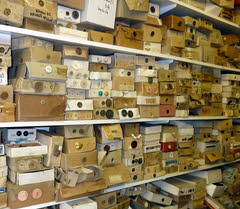 Shopkeeper lays over the table boxes and bags with diverse navy blue buttons.
I buy 10 buttons @ 45 pence each.
Instead of returning to the Mediterranean sewer, I buy a bobbin of thread for 99 pence at Robert Dyas. The estimated cost of the operation "Buttons" plummets four times - from pound 20 to 5.49. How to hold a needle in hand, I know myself. DIY!
So, where to buy buttons in London?
At Taylors, 22 Cleveland Street, London!
More shops where one can buy buttons in London:
Bare Essentials, 76 High Street, London BR1 1DD
nearest tube Bromley South.
Bead Aura, 3 Neal's Yard, London WC2H 9DP
nearest tube Covent Garden.
Beauty Stones, 10 Wentworth Street, London E1 7TF
nearest tube Aldgate.
Colourtex Dyers, 800 High Road, London N17 0DH
nearest overground White Hart Lane.
Creative Beadcraft, 1 Marshall Street, London W1F 9BA
nearest tube Oxford Circus.
De Fashion Bureau, 137 Broadway, London DA6 7EZ
nearest overground Bexleyheath.
Karen's Bead Shop, Watermill Way, London SW19 2RD
nearest tube Colliers Wood.
Ladies Accessories, The Liberty, London RM1 3RT
nearest overground Romford.
Taylors Buttons, 22 Cleveland Street, London W1T 4JB
nearest tube Goodge Street.
The Button Queen, 76 Marylebone Lane, London W1U 2PR
nearest tube Bond Street.