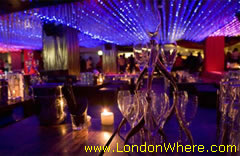 Merah club review
Merah Club is closed
To all our dearest loyal customers, it is with great sadness and regret that we announce that we have closed down as Merah Club. We wish to thank you for your... Sad, isn't it?

Go and mix some cocktails for yourself - Cocktails Drinks Recipes on e-Alko.com
Heyday of the Merah Club
Merah club is described as sophisticated, lavish and plush. The name Merah is 'harem' spelt backwards. You'll be inspired as you step through the doors of Merah.
Non-members are welcome, but must pay the door charge.
Merah is an exclusive VIP club in London, a celebrity hangout, which operates on a membership basis. Merah guestlist description is simple - with no guestlist or membership, Merah club relies on the skills of the door picker.
Merah - bankers splash out £60,000 on bar bill after jackpot bet on election.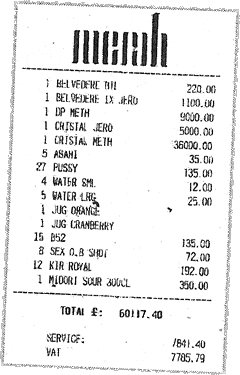 They say vast tab for booze won't make a dent.
A group of investment bankers who correctly bet on the outcome of the election celebrated a huge payout by running up a £60,000 bar bill.
The six men went to Merah nightclub in Fitzrovia on Friday night and asked for the most expensive bottle of champagne, which happened to be a Methuselah of vintage Cristal at £36,000. The six-litre vessel is the equivalent size of eight regular bottles.
A source at the Merah nightclub said: "They had made a small fortune on the outcome of the election, correctly guessing the results in constituencies over quite a large spread.
"When the Methuselah was delivered to their table, the music was stopped and the group were chanting, 'Down with Brown, down with Brown'."
They followed it up with a Jeroboam of Cristal at £5,000 and a Methuselah of Dom Perignon, which was £9,000.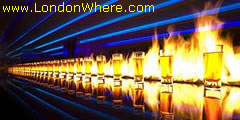 Bottles of vodka, beers and shots brought the bill to just over £52,000, with a service charge of nearly £8,000 bringing the grand total to £60,117.40.
The source added: "Needless to say, their spending attracted quite a few girls who helped them through all the drinks. They were very popular boys by the time they called it a night at 3am.
"The guys were in their mid-forties and had come straight from work as they still had their suits on.
"When their champagne arrived the whole club stood still - each bottle was delivered to the table with sparklers sticking out the top. They were surrounded by about 20 women all night.
"They were cheering and shouting throughout their evening and told staff they had guessed the outcome of the election to within a seat. They did not reveal how much they had won, but said their £60,000 bill 'wouldn't even touch the sides'." Alistair Foster: Bankers splash out £60,000 on bar bill after jackpot bet on election. London Evening Standard, 2010-05-10.
Merah club London
Merah address: Merah, 78 Wells Street, Fitzrovia, London.
Merah entry: £20 for non-members.
Merah club's music policy: RnB, Electro, Funky House.
Merah minimum spend for tables: £500 upwards.
Merah Club Review°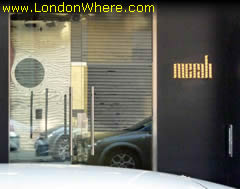 Merah Club Review° says that, opened in October of 2009, Merah is becoming one of London's hottest club in years. The tone for Merah is extreme decadence and Vanity Fair asked if Merah club was helping London to usher in a new era in clubbing. We think it is, with limousine service for those who purchase tables, door pickers straight from the legendary St. Tropez hot spot Les Caves du Roys, and what is touted as the best-looking patrons in town. Merah nightclub operates on a membership basis, but the public may enter for a fee, of course.
Merah reviews from ordinary partygoers
Merah club review from johnwalts, 17/05/2012
I really like Merah but some waitresses are very friendly, but few of them are too friendly! I like the music, the people because it has changed since the last few months. I usually go there with my girlfriend as she likes the music but unfortunately with had a few fights after and during our time there all this because of a french girl who is waitress there and who is always high on drugs as she asked many people for some and always drunk! She keeps on hugging people and that s why my gf got really upset about. The other girls said it was normal for her to behave like this as she is the general manager girl friend and nobody talks to her! What a shame, but when I went last Wednesday for the special party I made sure that I wasn't being served by her, but couldn't help to notice that she was high again.
---
Merah club review from chloe28, 12/05/2012

Disgusting ethic. Girls pushed aside and refused entry. People are treated like animals rather than human beings simply wanting a good night out. Groups were being split up - some being 'welcomed' in and others apparently just not good enough. It's not like those being turned away were ugly or poorly dressed (not that these are good reasons either). Would you really want to go somewhere where the ugly door staff judge you? It honestly makes me sick to the stomach.
---
Merah club review from secretshoper, 10/05/2012
Door woman is a complete jerk but really hot. I think it might be an act. I'd like to try and talk to her on a personal basis, but I have a hard enough time just trying to get inside.
Very few women go here. Most are girls. Some are really trashy. They come up to your table and the first words out of their mouth is, "can I have a drink?"
Drinks, service, music = Mayfair. Music is better than average though.
I like the design a lot better now than the previous Crystal design.
Overall, a really good club, but I would very rarely go there because the girls are disgusting (not in a physical sense though). If you're a guy and you like to buy tables, give out free drinks, and try to hook up with fit 18 year old girls, this is your place though. I would even go as far as to say it's the best place for this in London or at least equal to Jalouse.
---
Merah club review from MissNatalieHam, 09/05/2012
Merah is THE MOST elegant club in London now. when I go to Merah, my nights are always really good, fun, I meet cool people. its great to finally be able to enjoy a full night of partying without being in dingy surroundings, or with cheap or drunk people. I love it! :)
---
Merah club review from AliyahC, 21/04/2012
Merah is the best new club in London! I go at least 4 times a month and have yet to have a less than fabulous night there and I have been to most members clubs in Mayfair, this out do's them all! No drunks or kids, just a professional, elite and good looking crowd but not stuck up! The music is always great and I have on more than one occasion seen top international dj's playing there. As for the door policy, if they were to let any body in. Whats the point of calling it a vip club?! I love Merah. I'd give it a million stars!
---
Merah club review from Carly23, 13/04/2012
Well what can I say... I went there last night and I had mixed reviews.
The club itself is pretty and well set up. Bar staff are friendly and very attentive. DJ/Music were excellent. Drinks were reasonable for a club of this stature.
My only concern is the crowd, yesterday there was a big group of American guys who slightly spoilt the evening. Im not sure if this is the usual crack with Merah, but it wasnt a good idea. Also, I know its a must to be well dressed, but the dress code of some of the guys was tragic. I mean dressing in a (Purple?)bow tie to gain some attention and giving yourself that wildcard to attempt to get in simply ridicules the establishment.
As well as letting the wrong crowd in, seems like they are turning the wrong crowd away.
If they can iron out these anomalies im sure it will propel Merah to a league of its own.
---
Merah club review from Athena69, 13/04/2012
Absolutely agree!
I love the place but will never go there again.
I don't like going out wearing purple bow ties, and pink shirts just to get in a club, it's just not right and unfortunately that's what this place is all about... Dressing like a waiter is not my thing...
---
Merah club review from Carly23, 13/04/2012
Hold on guys, are we talking about the same person here?
The annoying American guy, horrible purple bow tie, pink shirt and a blazer?
He tried it on me, I rejected him outrightly.
He thinks hes some baller, with membership or something, well, he doesnt impress me!
---
Merah club review from eeuropeanchick, 13/04/2012
I think we're talking about the same guy, but that American guy with a pink shirt and bow tie was HOT! My friend and I argued about which one would approach him first, but unfortunately, my friend won and she went home him. Spoke to her today and she said it was amazing. Wish it would've been me.
---
Merah club review from hadiAH, 12/04/2012
Merah has top standards in everything. The party is always so good. The DJs great. Cool music. The best tables are the ones on the dance floor. I always look forward to a night at Merah.
---
The views contained in these reviews are not endorsed by LondonWhere.com in any way and are provided by users of the World Wide Web who wish to publish their independent views of the respective establishment.
Merah guestlist
Rihanna celebrated another O2 show in London by hitting the swanky Merah club. Not only that, she made in personal appearance fees about $30,000 just for hanging out for 45 minutes.
Pop star Rihanna left Merah at 3am before heading to another club called the Whisky Mist. Rihanna then hit a club called Mahiki, ordered thousands of pounds worth of alcohol, including Krug champagne, huge bottles of Grey Goose vodka and downed Jagerbombs until 4am.
When Rihanna left
she was clutching a half-drunk bottle of Mount Gay rum.
---
Tags: night clubs, merah nightclub in london, merah closed, nightclub in london. All photographs that appear on this webpage are copyright their respective owners and London Where claims no credit for them unless otherwise noted.