Columbia Flower Market in London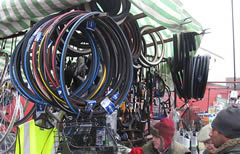 Columbia Flower Market can't be beaten for top quality, reasonably priced flowers. Forget all the tourist traps and take an opportunity to see a different side of London with our visit to some traditional London markets. Columbia Road flower market is a heady mix of vibrant colours and sweet scents floating on the breeze punctuated by the traditional and incomprehensible shouts of the market traders trying to attract passers attention. It has a great atmosphere and one which you have to experience for yourself. The flower stalls only cover about 100m of the street but the shops behind the stalls sell all maner of nik naks and arty items (and yes more plants/flowers). There are also street musicians and some stalls selling breakfast foods which all add to the fantastic atmosphere on Columbia Flower Market. You can buy cut flowers, potted plants, bulbs as well as all manner flower related paraphernalia.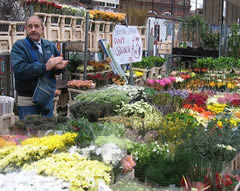 After rendezvousing for a cup of tea in a traditional market cafe, we will head off to Brick Lane market but taking a slight detour to see one of the best known Banksy paintings in London (see pictures below). This painting hit the headlines due to its subject matter and the fact that the local council didn't share Banksy sense of humour and removed part of the painting (they didn't have the legal right to remove it all). Sadly this painting has been slightly defaced but is still worth a look.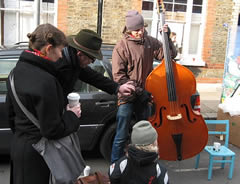 Brick lane market is an eclectic mix of stalls selling fruit, bread, house wares, tools, clothes, bikes and pretty much anything else you could think of. There are also some very good food stalls offering all maner of cuisines. Brick Lane market is much larger than the flower market and sprawls over a couple of intersecting streets. This market has much more of a traditinoal, earthy feel. On the fringes of the market you may be able to find some unnoficial pitches which are just blankets on the ground and are "run" by homeless people selling stuff to make a few extra pounds. The stark contrast between the "homeless" pitches and upmarket food stalls reflects the diverse nature of this part of London.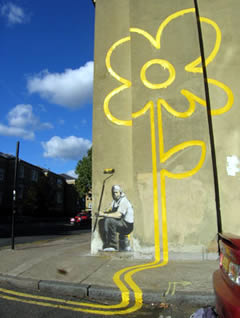 If you haven't been to either of these markets, you really will see a different side of London today. After Brick Lane market we will go for a pub lunch (if you haven't gorged yourself on the street food) and have a few drinks.
Columbia Flower Market At the intersection of Columbia Road and Cosset Street by the park gates opposite the Bridcage pub. The market inspectors have just moved on a fly pitcher who was selling cut flowers on an unlicenced space outside the Columbia flower market.
Columbia Flower Market
Angela:
There was a wonderful array of flowers and plants for sale at Columbia flower market, with a good selection of little shops behind the market, something for everyone. Brick Lane was interesting, someone tried to sell me a dead fox and a Paddington bear for £65, as well as an invite to look round the local mosque. It all made for a very entertaining day and the sunday lunch at the pub afterwards was very tasty.
---
Rocky:
I thought the Columbia flower Market was fantastic, although the banksy looked a little worse for wear.
---
rebecca2286:
Has anyone been to Columbia flower market in London? Is it worth the trip and is it cheap-ish??
---
sarahdrin
For a tourist or an out-of-towner, the Columbia Flower Market is a great place to bring them for a shop and a people-watch. The barrow boys in the flower stalls know their stuff, and you can always find some fine stems here for a third of the price of anywhere else. There's also a great selection of independent shops selling vintage crockery, Rob Ryan cut-outs, cool Mexicana and second-hand bric a brac. My personal favourites are Jessie Chorley and Buddug Humphries frankly weird jewellery shop (I love their stuff), Suck'n'Chew's old fashioned sweets and the very appropriately named Vintage Heaven.
---
sarah:
a really lovely morning!! bought too much to carry from the columbia flower market, it was a shame i couldn't stay for the pub lunch :-)
---
Columbia Flower Market
Columbia Flower Market, Banksy Painting and Brick Lane Market. Columbia Road flower market and shops are open every Sunday from 8am until about 3pm unless it falls on Christmas Day (25 December). As well as the market, there is also a mass of independent shops, selling everything from jewellery and vintage clothes, to antiques, cupcakes, art and furniture. Columbia Road is located in East London, in between Shoreditch and Bethnal Green, near to Brick Lane and Spitalfields.
Gwilym's Coffee Cart on Columbia Flower Market is set next to a breakfast stall selling bacon and egg sarnies and the smell was divine. Freshly ground coffee, bacon, eggs - heaven!!
George a Pitch Owner has been on the Columbia flower market since 1949 and his stock is seasonal. From March to July onwards he sells bedding and perennial plants. From July to August he sells pot plants such as felicia, scaviola and bidens. From August to March he sells bulbs such as daffodils, tulips, bluebells, lilies and irises. "Good morning, why have you come? Help yourself, pick out what you like or what you don't like and pay for them of course.
---
Tags: flower market, columbia road london, columbia flower market, brick lane market, market in london, flower market in london, columbia road flower market. All photographs that appear on this web page are copyright their respective owners and London Where claims no credit for them unless otherwise noted.